Friday, April 1, 2011
For this tag I used Paint Shop Pro X3 it should work with any version of the program. Any resemblance to any other signature or tutorial is not intended and merely coincidental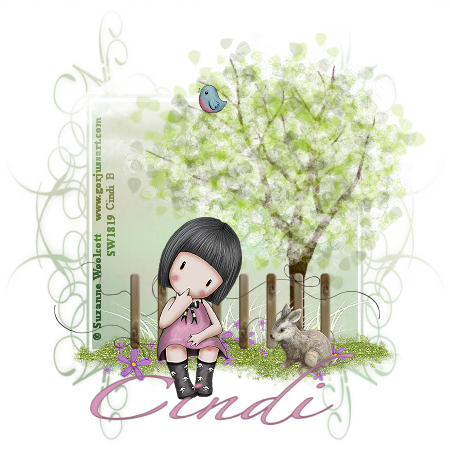 You will need the "Easter Violets" tagger scrap kit by KnC Scrapz. You can get it from
Lollipops n Gumdrops
.
You will also need a tube of choice I used
Suzanne Woolcott's
beautiful artwork Please do not use the same tubes without proper license. I used the beautiful Ymask42 from
Ylvas Design
.
To start download the scrap kit unzip it, download your mask, and pick your tube.
Open pp8 and apply your mask layer, merge group. Open the tree and place it to the right hand side of the mask layer. Open grass 2 and place the bottom of the grass against the bottom of the mask layer. Open grass 1 and place against the bottom of the mask layer move this to the left side duplicate this layer and move this one to the right so that the whole bottom area is covered with the grass. Open flowers 2 free rotate 90 degrees place on top of the grass. Open fence and place it just on top of the grass. Open rabbit resize the rabbit so it is shorter then the fence and then move to the right of the tag.
Copy and paste your tube as a new layer resize so the tube is just taller then the fence. My tube had a cute little bird that I placed in the tree. The kit also comes with a cute bird in a nest if your tube does not have one.
Add any other elements from the kit you want to when you are happy with the placements Merge visible. Resize the tag to 450 pixels wide making sure the resize all layers box IS checked; sharpen. Add the copyright information for the tube you used and your name. To save the clear background save as a png. Congratulations you have finished another tag!!
If you need help with this tutorial please feel free to contact me at iceholecyn(at)gmail.com change the (at) to @ to make the email work =D
Feel free to show off what you have created with this tutorial at the same email address. Please comment if you used this tutorial I would love to know if this was helpful to anyone =D Thanks for trying my tutorial!